Started with 10+ stores in 2019, Barcelona has achieved milestones and successfully continued its retail expansion drive in tier 2-3 cities through franchise routes.
With 90+ stores to date, Barcelona intends to navigate the brand deep into the franchise space. Barcelona is a modern menswear fashion brand and one of the fastest-growing franchises.
Jaimin Gupta, Managing Director of Barcelona said "We are looking for entrepreneurs who believe in Barcelona's vision as well as the brand, for the significant partnership to expand the franchise."
Jaimin Gupta has set its franchise sales goals and expects to enhance the accessibility of the latest fashion to customers by bringing in more than 400 stores by the end of 2022.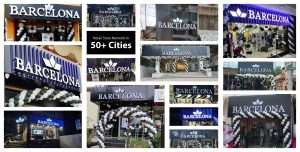 He truly believes in empowering & providing satisfactory success to franchisees. Understanding the importance of Franchise Support, he focuses on critical areas like sales leadership, training, support, financial opportunity, and technology to help fulfill supply and inventory demands.