Divya Bhaskar recently celebrated its successful 20 years by organizing a unique recognition event, with huge fervor, at Courtyard by Marriott, Ahmedabad, Gujarat.
The highlight of the event was the recognition given to the leading businessmen and entrepreneurs of Gujarat who have excelled in their respective fields over the years.
The event witnessed the presence of a respected chief guest, Devusinh Chauhan – Hon'ble Minister of State for communications, Govt. of India, Arjunsinh Chauhan – Hon'ble Cabinet Minister, Govt. of Gujarat, and the well-known Gaur Gopal Das who is a personal coach, monk and motivational speaker sharing deeper spiritual insights with the worlds.
The event was special for us as Jaimin Gupta – Managing Director of Barcelona was awarded in the event for his distinct contribution and promising work to revolutionize the apparel retail industry. 
The awards was conferred to Jaimin Gupta by respected Minister of Communication Devusingh Chauhan, Govt of India, and Shri Gaur Gopal das.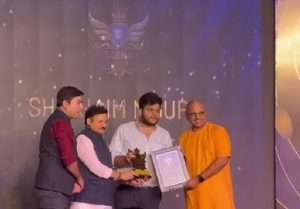 It is an extreme honor and privilege for Barcelona to be selected for this prestigious award. Awards like this is what inspire greater self-confidence. And this great recognition will surely inspire and help us further strengthen our business plans and continue with our innovations and contributions to the fashion industry. 
Barcelona is a leading menswear fashion brand with 100+ store locations across India to support the demand for high-quality branded clothes for men at an affordable price range.
Notably, Barcelona has an overall strength of 2.5 lakh customers and is also helping entrepreneurs make their dream business come true by offering incredible franchise opportunities. For existing franchisers, helping with smart and effective B2B app that make business complexities easy with the multiple app features.